Thanksgiving Address Booklet
kr50.00
Beskrivning
I am honored that we have the opportunity to sell this important booklet in Sweden. I was trusted to do the translation to Swedish in the late nineties by my friend John Stokes and Mohawk Chief Jake Swamp. This is also one of the most important tradition that Faith Keeper Oren Lyons reminds us of to do daily:
-"We have been given the duty and responsibility to live in balance and harmony with each other and all living things. So now, we bring our minds together as one as we give our greetings and our thanks to one another as people".
Göran Gennvi
……………………………………………………………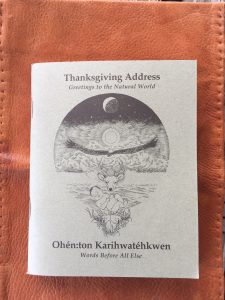 These thanksgiving words come to us from the Native people known as the Haudenosaunee (also Iroquois or Six Nations ‹ Mohawk, Oneida, Cayuga, Onondaga, Seneca, and Tuscarora) of upstate New York and Canada. The Thanksgiving Address has ancient roots, dating back over one thousand years to the Great Law of Peace formation by a man called the Peacemaker, and perhaps before that. Today, these words are still spoken at the opening and closing of all the Six Nations' ceremonial and governmental gatherings.
We believe that all people at one time in their history had similar words to acknowledge the works of the Creator. With this in mind, we offer these words in a written form as a way to reacquaint ourselves with this shared vision. Our version of the Thanksgiving Address has been modified for a young, general audience‹. It has been shortened, and any specific references to the Six Nations' culture have been generalized. We hope this will enhance the accessibility of the words for readers around the world.
You are invited‹ ‹to share in these words that our concentrated attention might help us rediscover our balance, respect, and oneness with Nature.
Now our minds are one.
John Stokes
The Tracking Project