Naturakademin learning lab – Nurturing life
---
---
Naturakademin har sin utgångspunkt i hur livets processer fungerar i den dynamiska balansakten mellan att upprätthålla och förnya. I partnerskap med naturen som lärare och guide vill vi bistå i den nödvändiga transformation som ledare, organisationer och samhälle behöver genomgå. Det innebär att utveckla en genuin respekt för allt liv, en ekologisk sytemförståelse och ett ansvarstagande samt ett beteende som står i samklang med ekosystemet och livets processer. Vi samarbetar med världsledande forskare inom hållbar utveckling och transformation ledarskap, liksom med visdomsbärare från ursprungsfolk. Genom evolutionen har deras kunskap och visdom utvecklats och bevarats i nära samspel med landskapet och den livgivande naturen man bebor. Vi utgår ifrån vår djupast kända kod för anpassning, utveckling och överlevnad i en allt mer komplex omvärld.
"WE CREATE CIRCLES OF TRUST AND QUESTS FOR TRANSFORMATION"
– IN SERVICE TO LIFE & TO THOSE WHO ARE IN SERVICE TO LIFE –
---
Nature Academy – Nourishing Life.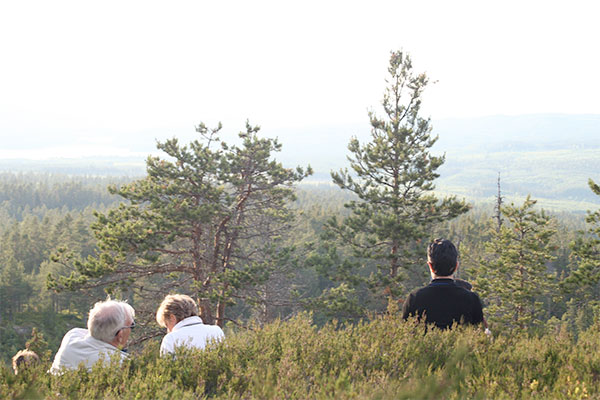 Levande system – "Nature as a blueprint" – Naturen är vår bästa lärare i en värld som är i ständig utveckling. Naturens samordnande princip är relationer och allting är hela tiden i förändring: individer, system, miljöer, regler och evolutionens processer. Livet utnyttjar randen till kaos för att skapa välfungerande lösningar. Vi tränar dynamisk balans och att manövrera i osäkerhet.
Learning Lab för hållbar utveckling
"Århundradets största utmaning är att ta ett abstrakt begrepp som hållbar utveckling och göra det till en verklighet för människorna över hela världen". – Kofi Annan, FN
Frågan kräver samsyn, lärande och tillit mellan många olika aktörerna i många olika sammanhang. Learning Lab utmanar dessa komplexa frågor och dilemman genom lärande, innovation och organisatorisk utveckling.
GET INSPIRED
IT'S FOR FREE
Wild Adventures
---
I vårt klassrum är det högt i tak. Ett rum för såväl utsikt som insikt. En plats som ger möjlighet till att utveckla våra transformativa förmågor genom upplevelser som går på djupet. Läs mer under bilderna.
---
---
---
Snabbkontakt
Kontakta mig via telefon eller e-mail
---
Adress: United Spaces, Klarabergsg. 63
Telefon: +46–(0)8–716 36 77
Epost: gennvi@naturakademin.se
---