"This is how I would like to feel when I make decisions that affect so many people!". Those words were uttered by a high ranked CEO during a break, lying on his back on a mountain slope above the tree line, and continued, "- nature gives me perspective. Here I can distinguish between big and small. Here I am in contact with my true self and my deepest values.". Göran Gennvi
We aim to support the development of the outer, inner, and true nature within people, groups, and society. Learn more about our programs for transformative learning;
When we do not agree on the problem, the solution, or the plan, we have to experiment with our way forward, one step at a time. Like "crossing the river by feeling the stones." To step into the game means being willing to change ourselves and embracing conflict and connection. Learn more about our proof of concept.
When you're grounded, you allow yourself to feel centered and balanced no matter what's going on around you, the ability to stay calm and connect to the core of who you are in the face of uncertainty. Watch Clip and Learn More;
To align with Earth's wisdom, we have to not just learn from but "as nature." Nature Quest is an immersive nature experience to access earth wisdom for learning and profound transformation, learn more;
If you have a profound desire to share, guide, and support others to Earth's wisdom, we have a way for you. Our mission is to support people to be better prepared for our time's challenges by becoming and growing their inner Pathfinder.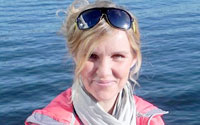 Göran is one of our (oh so important) co-creators at Houdini Sportswear. As such he has contributed immensely on our journey, in many more ways than I, and perhaps he had initially anticipated. From leading the entire Houdini team through a Nature Quest in the outer archipelago to engaging in our philosophical reflections around our brand and purpose to helping shape our plan for the future to connecting us with key thought leaders to reach even further. Göran is this curious, wise, generous, and fun systems thinker who engages, goes in-depth, and innovates in a systemic way, leaving nothing or no one behind.
- Eva Karlsson, CEO Houdinisportswear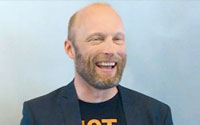 We have had the privilege to be guided by Göran through a two-year regenerative learning process to find the source code for success and for our complete international organization to internalize the findings. A better understanding of the importance of trust-building in our business and how to nourish a trust-building corporate culture has been developed through different dialogue workshops.
- Ulf Stenerhag - CEO, Thurne Teknik AB
We at Lifesum had the pleasure to work with Göran on both the leadership level and with the whole company on our future vision and strategy. Göran was key to get us moving fwd. Göran really demonstrated how experienced and talented he is in the field of transformation and leadership development. His competence, way of listing to what is happening, wisdom, positive energy, and adaptability to the situation makes it a treat to work with him.
- Victoria Bastide - CTO, Lifesum
I was fortunate to participate in Naturakademins's WiLD Nature Quest in the mountains up north in Sweden. I got to some profound understandings about my life and myself. I highly recommend Göran to all executives in the world. Get Wild people!
- Gadi Kenny - Founder Peoples Peace Found
nature as the classroom and the teacher
---
---
Calibrate the inner compass
My insights on the mountain developed an understanding of a deep-seated code, an inner compass that evolution has refined for our adaptation and survival. Those are the abilities that helped us grow and spread as a species.
---
---
Transformative learning
The expansion of consciousness through which an individual can question themselves about their own feelings, beliefs, assumptions, and perspective on their purpose.
Read more by clicking the button:
Transformative leadership
Transformative Leadership requires an ability to lead in uncertainty and complexity and expands the boundaries of what Leadership means. 
Read more by clicking the button:
Wild Adventures
---
WiLD - Wisdom, Insight Leadership, and Dialogue
We invite you to immerse yourself and listen to your inner wisdom. You get the opportunity to practice skills and abilities and calibrate the inner compass with nature as a classroom and teacher, and where timeless knowledge meets modern science. WiLD Adventures creates conditions for learning and transformative development based on the principles of life and nature.
The management systems we have had until today are based on the notion that the world is predictable. But the world does not look like that!
Leadership increasingly means the ability to maneuver to an increased degree of unpredictability, risk, and dynamism, as well as to manage and take advantage of many perspectives in a constructive way. Our methods are therefore focused on "building the ability to lead on the edge of chaos."
---
---
---
Easy access
Contact by: Phone/text: +46–(0)70–5128198
Email: gennvi@natureacademy.se
---
---
City Office: United Spaces, Klarabergsg. 63, Stockholm